Gift collections are the most economical way to purchase professional prints. To create a collection just select your favorite view or views and mix and match to the suggested sizes. Wallet prints are ordered eight per view.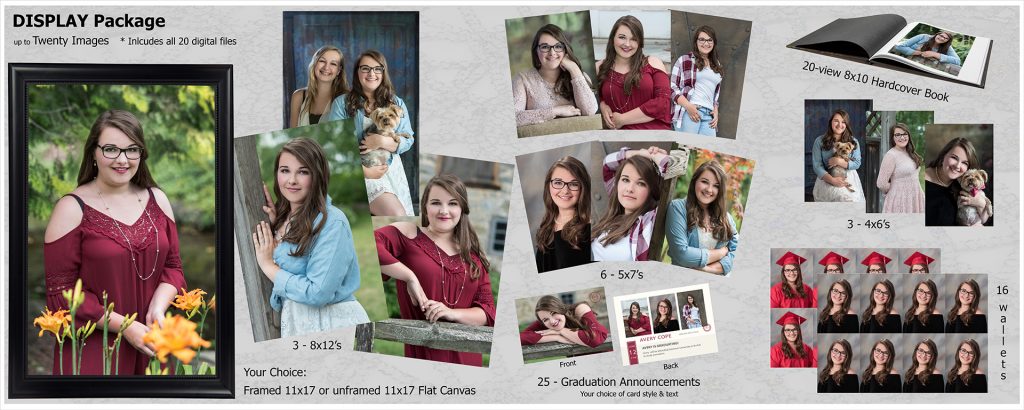 DISPLAY (up to Twenty images) $799
Three 8x12s
Six 5x7s
Three 4x6s
16 Wallet prints
Twenty-view 8×10 Hardcover Book
25 Graduation Announcements
Framed 11×17 print or unframed 11×17 Flat Canvas
These 20 Digital Files on Flash Drive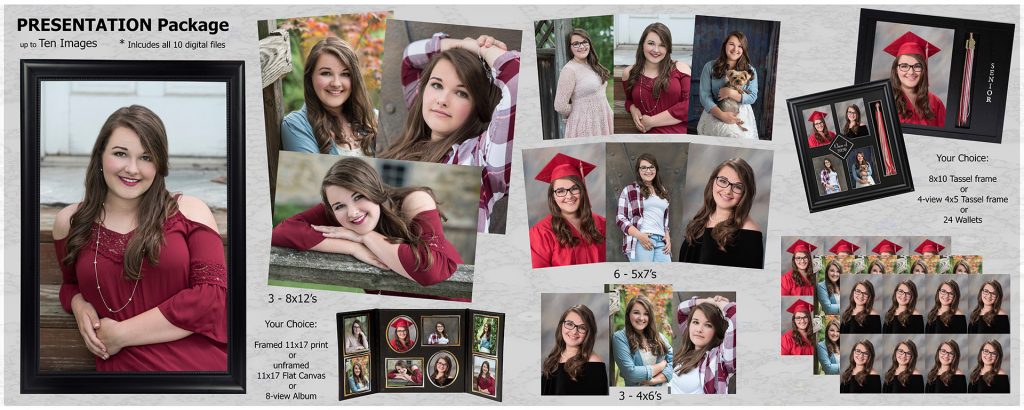 PRESENTATION (up to Ten images) $589
Three 8x12s
Six 5x7s
Three 4x6s
24 Wallet prints or 8×10 Tassel Frame or Four-view Tassel Frame
These Ten Digital Files on flash drive
8-view Album or 11×17 Flat canvas or Framed 11×17 print
VALUE (up to Six images) $449
Two 8x12s
Six 5x7s
Three 4x6s
16 Wallet prints
These Six Digital Files on flash drive
Framed Three-view 4×6 display or Three-view vertical composite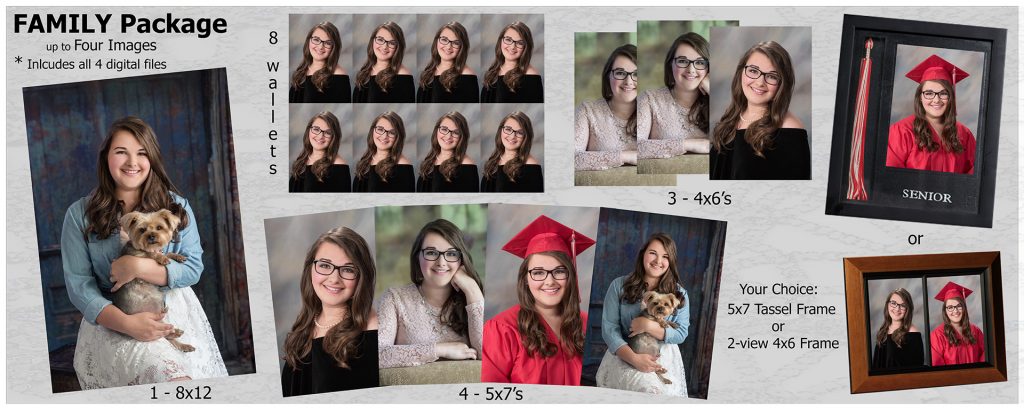 FAMILY (up to Four images) $339
One 8×12
Four 5x7s
Three 4x6s
8 Wallet prints
These Four Digital Files on flash drive
5×7 Tassel Frame or Two-view 4×6 frame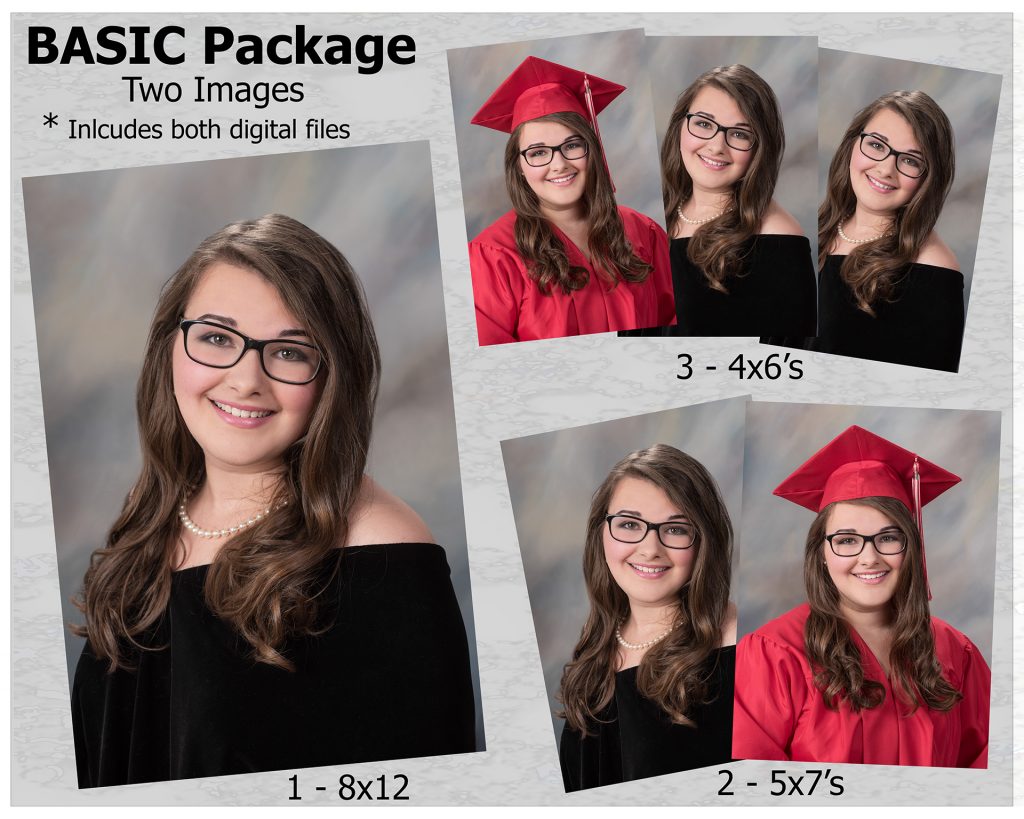 BASIC (Up to 2 images) $229
One 8×12
Two 5x7s
Three 4x6s
These Two digital files on flash drive
Elements  (Single Image) $159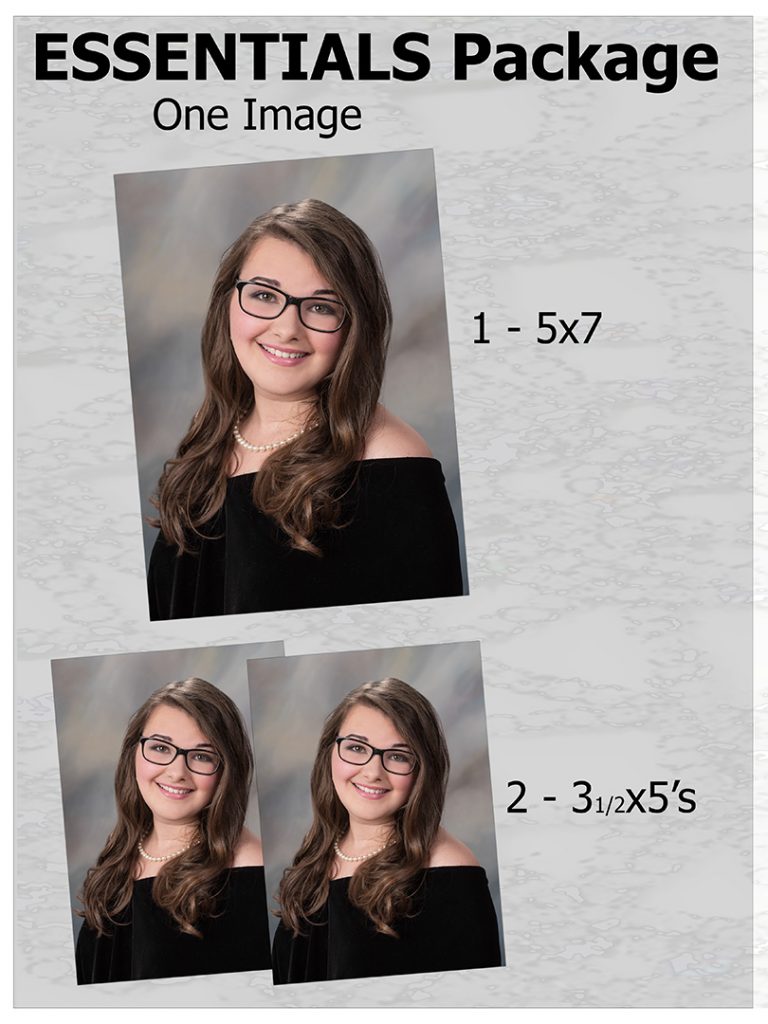 Essentials (Single Image) $89
Add additional views and corresponding digital files to any package at the following rate:
$29 each with the Display package
$39 each with the Presentation, and Value packages
$49 each with the Family, and Basic packages
$59 each with the Elements, and Essentials packages.
8xl2 is recommended to maintain image proportion and integrity and to avoid
unwanted cropping. The 8xl0 size is available by request.
We use a professional grade luster paper with archival dye stability guaranteed
to exceed fifty years.
All packages can be customized to fit your needs by switching equivalent sizes or trading specialty items within the package.
A Digital Option
25 of your favorite retouched images in high resolution digital format presented on a digital frame with the corresponding flash drive ($549)
Each additional image ($20)
Spiral-Bound
Proof Books
Personalized front page
4 images per page
As many pages as you want
3 page minimum
Add to any package for only $25 per page
Hardcover Proof Books
8X10 Hardcover album
Customized photo cover
20 Pages
Up to 40 unretouched proof images
12 different page layouts to choose from
Optional text on up to 2 pages
Minor retouching available for $2 per image
Add to any package for $249